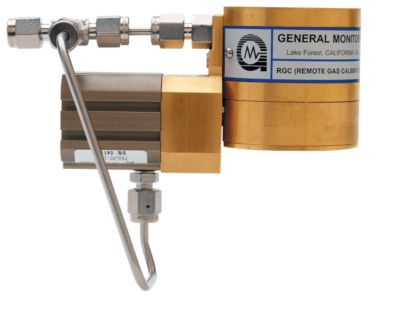 RGC-HT - Remote Gas Calibrator for High Temperatures
To verify the proper operation of a catalytic combustible gas sensor, it is necessary to periodically apply a gas of known concentration to the sensor. This is usually done manually at the site with gas supplied from a small lecture bottle. As the sensor reacts to the calibration gas, adjustments are made to the monitoring system to bring its calibration into agreement with the known concentration of the calibration gas. At times, sensors are mounted in inaccessible locations, requiring expensive catwalks or scaffolding to reach them. The High Temp Remote Gas Calibrator (RGC-HT) allows the calibration gas to be applied to the catalytic bead sensor from easily accessible locations. The RGC-HT is used for blocking ambient air and redirecting methane or other light hydrocarbon gases to the catalytic bead sensor for calibration or testing sensor accuracy in various environments. The RGC-HT tests or calibrates the General Monitors Catalytic Bead sensor with 50% LEL methane or other light hydrocarbon gas. The unit is capable of calibrating and detecting gases in various wind conditions (up to 45 mph) and temperatures (up to 200°C when used with high temperature sensor).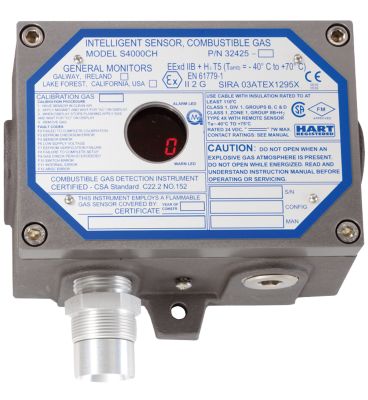 S4000CH Combustible Gas Detector
The S4000CH Intelligent Sensor is a microprocessor-based transmitter designed for use with General Monitors industry-leading catalytic bead sensors. It monitors combustible gases and vapors within the lower explosive limit (LEL) and provides status indication and alarm outputs. Complies with ANSI/ISA 12.13.01-2000 performance requirements for combustible gas detectors.