Featured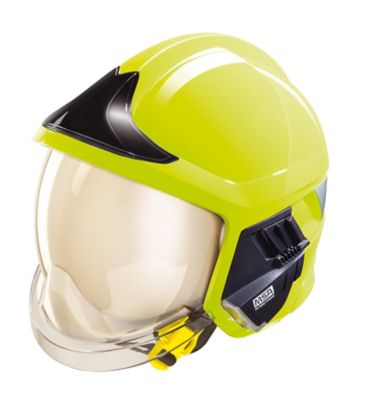 Gallet F1 XF and Accessories
Developed with firefighters from around the globe, the Gallet F1 XF sets the new standard for structural firefighting helmets. It enters a new dimension of protection, functionalities integration, comfort of use and modularity. The configurable design makes the Gallet F1 XF fire helmet the perfect fit for various interventions such as structural and outdoor fires, technical rescue operations and road traffic accidents.
Featured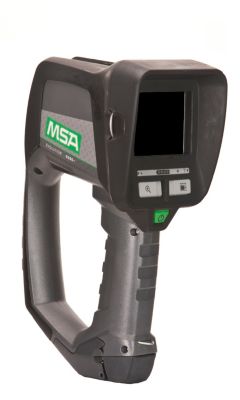 EVOLUTION® 6000 Plus Thermal Imaging Camera
New Evolution 6000 TIC from MSA is the most advanced and rugged thermal imaging camera ever built. New and enhanced features include best in class image quality, light weight, laser pointer and range finder. NFPA 1801-compliant model provides the industry's best mix of features to support the thermal imaging needs of every fire department, rescue organization, strike team, or HazMat crew. Operation includes NFPA Basic Mode and additional features in NFPA Plus Mode. Temperature readout is offered in Fahrenheit or Celsius. * Evolution 6000 Plus TIC: standard integrated flashlight/laser pointer, optional laser range finder/laser pointer (replaces flashlight if selected), compass, 2x/4x zoom, 6 color palettes, transmitter option.
Flexifold Goggles
These full-frame goggles offer universal fit and superior eye protection. Featuring dust- and waterproof sponge cupping, they're ideal for environments with concentrations of fine particles, powder or dust, as well as chemical splash. A flexible frame, polycarbonate lenses and anti-fog properties enhance fit, comfort and performance.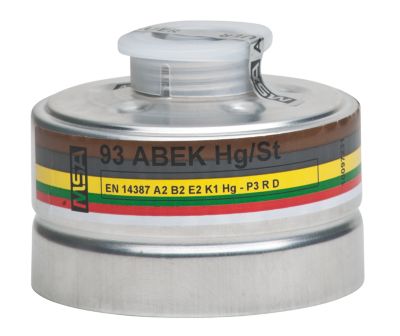 92/93 Combination Filters
The high-performance MSA filters provide strong protection against a wide range of toxic gases and particles  in full accordance with the latest standards. MSA's PlexTec particle filter technology increases filtering surface for easier breathing. Benefits for the user include: safe selection, no mix-ups, economical procurement, simpler stock keeping. Available in gas filter classes 1 or 2, and particles classes 2 and 3, in single or multiple gas range They are using the standard threaded connection EN148-1 and are compatible with all available facepieces equiped with the same thread. The 92 and 93 series of MSA gas filters are in full compliance with the REACH regulation and do not include any toxic materials listed in the European Regulation.
SSR 30/100
This small, robust KO2 respiratory device delivers safe and immediate oxygen on demand for escape or rescue. Packed airtight in a stainless steel container, this lightweight device is designed to be worn on a belt for easy opening and use. Dons in seconds. The TR device allows quick and economic training of donning and use by simulating the weight and properties of real units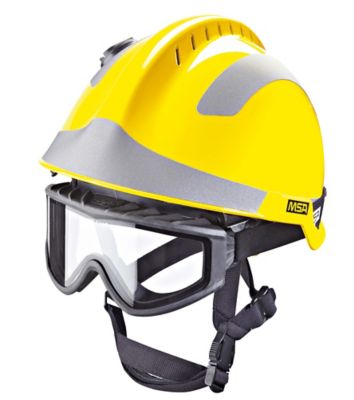 F2 X-TREM
With almost 30 years of leadership in technical rescue and wildland fire helmets, MSA offers F2 X-TREM, a multifunctional advanced protection helmet. Its comfort, modularity and wide range of accessories makes it the perfect head protection solution for various activities, such as wildland firefighting, technical rescue, Urban Search and Rescue, Road traffic accident.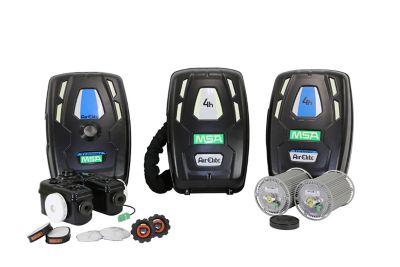 AirElite 4h - Closed Circuit Breathing Apparatus
The AirElite 4h with its slim construction and ergonomic design provides maximum comfort, with weight positioned on the waist and no shoulder width protrusion. The lateral breathing tubes are snug to the body for easy donning and doffing even in confined spaces without mask removal. It offers excellent breathing comfort via low breathing resistance, low inhalation temperature and dry breathing air. It has maintenance free standby storage for up to 2 years in full readiness mode – up to 8 years if canisters are in factory sealed condition. The G1 AirElite full face mask sets a new state-of-the-art in comfort and safety. It is a symbiosis of sophisticated materials and modern design principles.