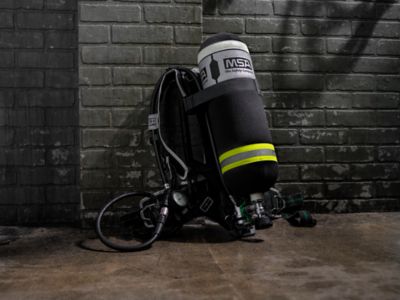 Composite Cylinder
MSA composite compressed air cylinders meet a wide range of applications, needs, and budgets. Composite cylinders with  aluminium liner, over wrapped with carbon and glass fibres, are 50% lighter than the traditional economic steel construction.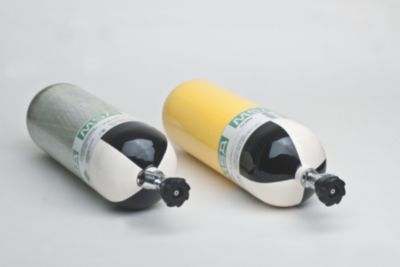 Steel Cylinder
MSA steel compressed air cylinders meet a wide range of applications, needs, and budgets. MSA cylinders can be ordered empty or charged and are equipped with cylindrical thread M18 x 1.5.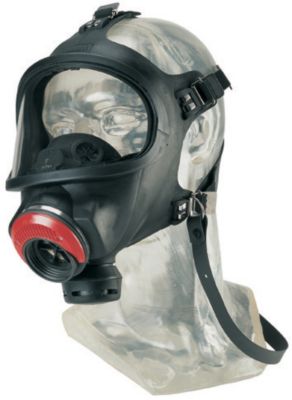 3S Positive Pressure Full-Face Masks
With more than five million units sold, the upgraded 3S Full-Facepiece Respirator offers safety, comfort and durability. The face blank is made of a softer rubber compound (and also yellow silicone in another option) and has a wide sealing frame and deeper chin stop for a snug, comfortable fit. The lens is made of impact-resistant polycarbonate (and silicate-coated glass and Triplex glass in other options) and offers a wide field of vision for excellent viewing. The harness allows for quick donning and removal and achieves a pressure-free fit in combination with a protective helmet. The inner mask allows for optimal air flow and eliminates lens fogging. The mask comes in more than 50 different versions, allowing users to find the perfect mask.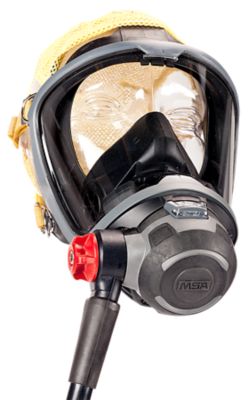 G1 Facepiece
The G1 Facepiece was designed without electronic components, to minimize weight, reduce your stress and fatigue and improve your overall performance level. This design also means that there are no electronic components on the outside of the facepiece that may result in snag and entanglement hazards. What's more, by eliminating costly electronic components, the price is reduced substantially, allowing personal-issue facepieces to be a cost effective measure. As an added bonus, the facepiece is equipped with cross-contamination prevention to reduce the spread of illness when facepieces are shared. But MSA didn't stop there. The MSA G1 SCBA is also equipped with a speaking diaphragm to increase speech clarity while off air. The new G1 Facepiece is not only lightweight and compact with overall low profile design, it's comfortable and built to last. Taking the preferred design features of the Ultra Elite Facepiece, including wide field of view and comfortable, robust seal geometry, we've taken the MSA G1 SCBA to the next level with an open port to provide low breathing resistance, both on and off air. The G1 Facepiece can help you to conserve energy for when you need it most.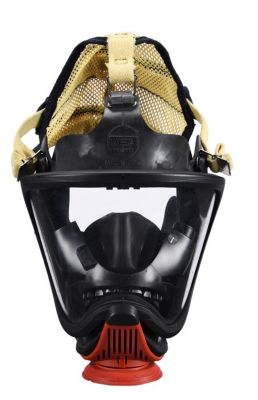 Ultra Elite® Positive Pressure Full-Face Masks
Combining state-of-the-art features with MSA's precision engineering, the Ultra Elite full-face mask is our top model in this range. The ergonomic design makes this a comfortable unit, while the 5-point harness makes it easy to put it on or take it off. The distortion-free coated lens provides a wide field of vision, while the unique airflow prevents lens misting. The face blank has a single-sealing flange and comes in rubber or silicone, while the speech diaphragm makes communication easy to discern. The model has more than 40 different versions, making it the perfect mask for many different applications.
HP Compressors
Designed to quickly charge 300  and/or 200 bar cylinders, MSA high pressure breathing air compressors work seamlessly as part of an air purification system that meets the highest, most stringent standards. Low operating speed for continuous, reliable operation. All moving parts are electronically balanced to run smoothly. A variety of horizontal, vertical portable and mobile models with charging capacity from 100 up till 570 liters per minute (larger models on request) are available. The compressors can be supplied with electric, gasoline or diesel engines. Vertical models from 230 up to 570 are available also with highly efficient noise suppressing cabinet for indoor application. Great variety of options and accessories are available. * Humidity control * Electronic Computer Control * Oil pressure control * Temperature control * Filling panels
MSA A2 Software
MSA A2 Software offers the ability to customize your SCBA to meet your SOP, analyze use data, as well as provides a simple, reliable method to enhance firefighter safety and accountability on the fire scene by monitoring firefighters' status remotely from incident command.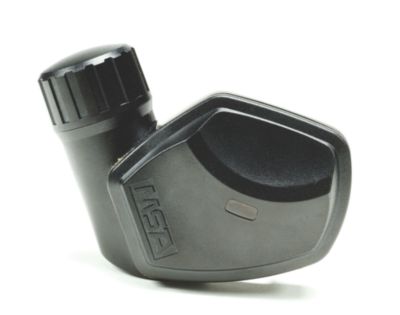 Nightfighter™ Heads-Up Display System
Clearly and easily see air cylinder content when wearing an MSA Ultra Elite Facepiece. This display system includes a transmitter assembly that securely mounts to the SCBA shoulder gauge pressure hose. Sends a digitally encoded signal to the facepiece-mounted receiver. Displays cylinder contents in one-quarter increments. Features 7 LED light patterns.
Constant Flow Airline Accessories
These accessories help ensure proper air quality and deliverability when used with MSA constant flow airline systems. Filters remove 99% (minimum) of >0.3 micron particulate for up to 1000 hours of use. Air supply hoses deliver respirable air from 8 to 5 feet in temperatures from -25ºF to 212ºF (depending on type). And cylinder cascade systems deliver single-source air to one or more workers.
Quick-Disconnects and Adapters
These assemblies connect air supply hoses to the manifold and air source. Locking-type quick disconnects are available to interconnect lengths of air supply hose. With locking quick-disconnects, use up to 12 sections of hose to make up the maximum length.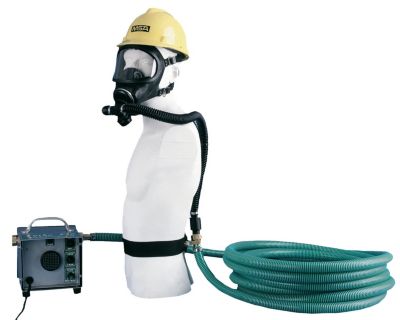 Turbo-Flo
This fresh air hose breathing apparatus (FABA) is designed for use wherever conditions permit drawing air from a hazard-free atmosphere. Because the air supply is fresh, there are no time restrictions on use. Can be used as an assisted (with Turbo-Flo blower) or unassisted fresh air breathing apparatus.
Turbo-Flo Accessories
From a full face mask to carrying case to waist belt with connector, these accessories make the Turbo-Flo breathing apparatus more flexible and comfortable to use.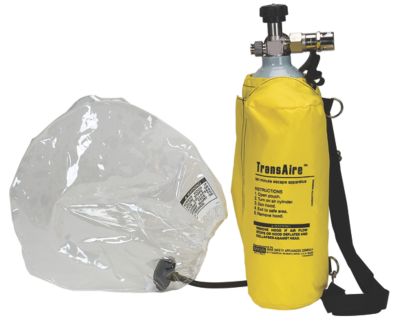 TransAire® 5 and TransAire® 10 Escape Respirator
These self-contained devices help personnel escape dangerous and deadly atmospheres, including those with high concentrations of toxic gases or vapors or oxygen deficiency. Low profile, lightweight, and easy to carry, these escape respirators feature one-control operation for a swift exit.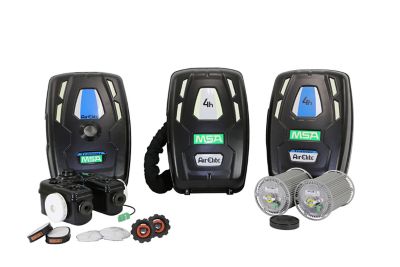 AirElite 4h - Closed Circuit Breathing Apparatus
The AirElite 4h with its slim construction and ergonomic design provides maximum comfort, with weight positioned on the waist and no shoulder width protrusion. The lateral breathing tubes are snug to the body for easy donning and doffing even in confined spaces without mask removal. It offers excellent breathing comfort via low breathing resistance, low inhalation temperature and dry breathing air. It has maintenance free standby storage for up to 2 years in full readiness mode – up to 8 years if canisters are in factory sealed condition. The G1 AirElite full face mask sets a new state-of-the-art in comfort and safety. It is a symbiosis of sophisticated materials and modern design principles.
SSR 30/100
This small, robust KO2 respiratory device delivers safe and immediate oxygen on demand for escape or rescue. Packed airtight in a stainless steel container, this lightweight device is designed to be worn on a belt for easy opening and use. Dons in seconds. The TR device allows quick and economic training of donning and use by simulating the weight and properties of real units
SSR 90 (K 60)
This chemical oxygen apparatus provides oxygen on demand during gas outbursts, fires and after explosions. Designed especially for self-rescue, the unit is housed in a robust stainless steel case and can be carried along or kept on site. Provides 60 minutes of rescue oxygen and up to 5 hours while awaiting rescue. The TR device allows quick and economic training of donning and use by simulating the weight and properties of real units