Featured
OptimAir® TL PAPR
The low-profile OptimAir® TL Powered Air-Purifying Respirator combines state-of-the-art design with superior "smart" features. The unit packages the motor blower, cartridges, and battery in a single hip-hugging design for lightweight comfort and fit. The low profile motor blower offers optimal airflow through a crushproof breathing tube, while the ergonomic battery pack allows for free movement within confined spaces. The unit automatically adjusts flow rates for altitude via an internal pressure sensor, while the cutting-edge design permits fast, accurate change-out of cartridges, hoods and batteries. The standard kit includes motor blower, smart charger, standard battery, hose, and decon belt.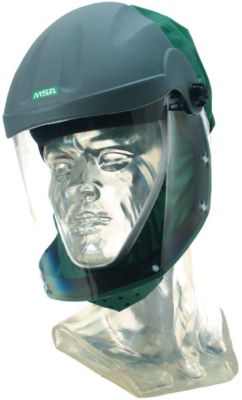 OptimAir® 3000 Accessories
A wide variety of accessories is available to suit your own custom requirements. Choose from our complete assortment of full face masks, hoods and visors to meet your individual specifications. full compatibility of all accessories wide range of approved headpieces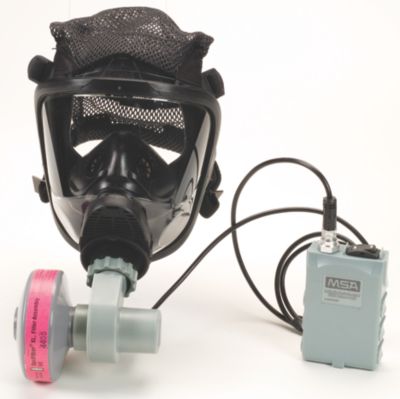 OptimAir® Mask-Mounted PAPR
Specifically designed for our Advantage® 3000, Advantage® 4000, Ultravue®, or Ultra Elite® facepiece models, the OptimAir® MM2K powered air-purifying respirator (PAPR) is precision-crafted to offer long life, high performance, and low maintenance. The compact, easy-to-decontaminate model uses a rechargeable NiMH battery for 8 hours of continuous use, while a dual-rate smart charger fully powers a discharged battery in less than three hours. The water-resistant HEPA filter helps protect against particulate contaminants. The light blower attaches to the facepiece, while the Type HE Optifilter® Cartridges remove particulates.
Featured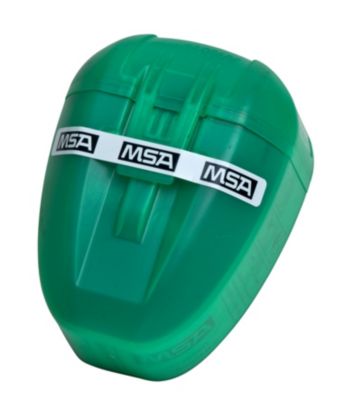 miniSCAPE
Using cutting-edge technology, the miniSCAPE respirator provides minutes of safety when seconds count. The portable respirator uses the new-generation TabTec filter, fits in a user's pocket and protects against numerous gases and vapors.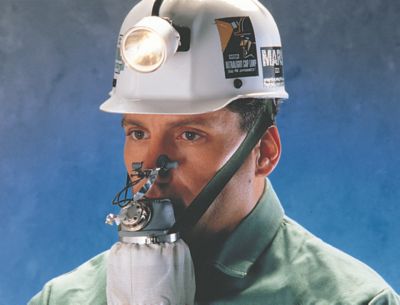 W65 Self-Rescuer Respirator
The MSA Filter Self-Rescuers W65-2/W65 and W 95 are Air-Purifying Respi rators for one-time escape use providing protection against toxic carbon monoxide (CO) and other gases emitted in underground mine fires or explosions. The Filter Self-Rescuer is immediately ready-for-use after opening and removal from the container. It has a Latex-free mouthpiece and nose clip to reliably protect the user from the contaminated ambient air. The adjustable head harness allows for a tight fit and hands-free usage. The sturdy stainless steel container is hermeticly sealed, providing long-lasting protection for the respirator.
Advantage® 3000 Mask Accessories
There is a full range of useful accessories for our full-face Advantage 3000 mask.  For example a carrying container, which can also hold all MSA face masks and features a wall bracket for quick access. The inside of the container includes a slide that snugly holds an EN 148 threaded filter. The cover has two lugs that can hold Advantage bayonet-type filters. A spectacle kit is also available to ensure that users can use their glasses while wearing the mask. There is also adhesive protective visors, to avoid scratches or dirt on the mask lens.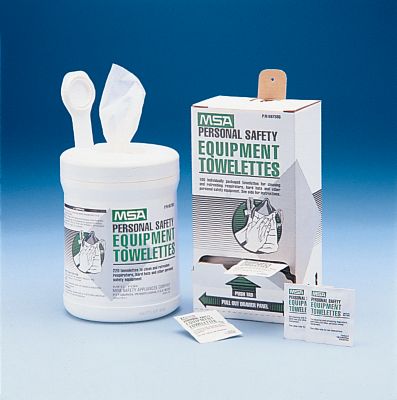 Respirator Accessories
Improve visibility with MSA respirator accessories, including spectacle kits and towelettes. Spectacle kits hold corrective lens in the facepiece while towelettes refresh equipment.